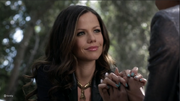 Shattered
is the fifth episode of Season 1.
Mona shows The Liars a note that says "I've got their numbers. We've got to trick the bitches tonight. We almost had Josh! -Jenna", their suspicious around Jenna being 'C' start again.
Spoiler!!!
Edit
It has been revealed that Mona forged this message, and that Jenna did not in fact write it.